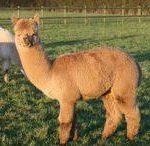 Colour: Solid Mid Fawn
Garsons Field Angelo (2009)
As with all Snowdrop's babies, Angelo was very precious to her so we referred to him as Mummy's little angel! He's just beginning to find his place with the boys, discovering that Sonny is his only competition for the girls attention! Angelo is very handsome and we're hoping to put him to work in the summer!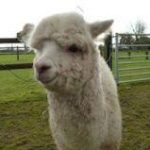 Colour: Solid White
Garsons Field Alpheus (2010)
Alpheus (Alfie) was named after the Roman river God, which reflected the weather prior to his birth! He was Selene's firstborn, making Holly a Granny and can be rather a nuisance to them when in playful mood! Alfie is very friendly and loves to come up and nuzzle against his human friends, wagging his tail profusely when petted!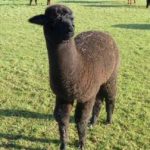 Garsons Field Zorian (2011)
Colour: Solid Bay Black
Zorian is Poppy's third son, but the only one to have survived so far. He is strong and lively and, although a little wary of us to begin with, is now the first up to be hand fed. He enjoys playing and rompsing with Morrisey, who isn't always as keen to participate.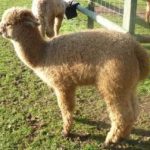 Garsons Field Morrisey (2011)
Colour: Solid Mid Fawn
Morrisey is Keva's fourth cria and second son. He is very gentle and a bit of a day dreamer, often getting left behind when his companions and their mum's wander into the next paddock. He is a full brother to Kimani and is just as pretty, but unlike the rest of Keva's clan, isn't too fussed about getting his fair share at feeding time. We hasten to add that Morrisey is named so after a local farmer, who was baling hay in the next paddock when he was born.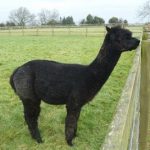 Garsons Field Jonnie (2012)
Colour: Solid Black
Jonnie was named after Jonnie Peacock the paralympic gold medallist. He caused us a lot of anxiety after a rather difficult birth but was obviously a fighter. Born prematurely, it took almost a year before he showed any significant growth but is now a very handsome, healthy and sometimes over friendly alpaca who enjoys lots of attention and nibbling clothes! He has always been fascinated by the dogs, often engaging in the occasional game of chase with Misty.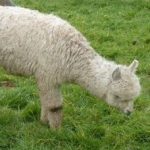 Garsons Field Sundown (2014)
Colour: Solid White
Sundown was a special surprise bonus for us. His mum, Morning Glory, was the first grey female to join us as part of our new breeding plan but no one knew she was pregnant. The day he was born we had just returned from Cornwall where we had been staying in a lovely house called Sundown, hence the name. Like Jonnie he was very tiny and almost had to stand on tiptoe to feed from his mum. It didn't take him long, however, to discover hard food and he is always waiting patiently at the gate at feeding times. Sundown sometimes resembles an overgrown hedgehog as he has a super fine fleece which seems to attract all sorts of debris, particularly after a night in the shelter!