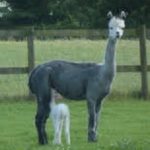 Colour: Dark Grey
Morning Glory (2010)
Morning Glory joined us in August 2014. We have always had an interest in breeding grey alpacas and once we saw her we knew she would be perfect for our core herd. She was quite wary of us to begin with, probably because she was being protective of her new baby, but she has settled quietly and calmly into her new surroundings and is an excellent mum to Sundown. Sundown is her second cria and we are hoping he has inherited her prize-winning fleece.
Bambi (2011)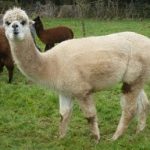 Colour: Solid Light Fawn
Bambi is a maiden female and arrived with Morning Glory. Although quiet at first she quickly recovered her confidence and is proving to be quite a character. She immediately spotted Angelo across the paddock and began to flirt outrageously with him. Angelo, in turn, struck up his best pose and it was love at first sight! She is the half sister of Sundown and likes to pronk around the paddock after him and the other young ones. We are hoping to mate her in the Spring.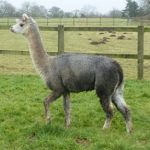 Fairydust (2008)
Colour: Dark Grey
Fairydust is very similar in looks to Morning Glory but quite the opposite in personality. She can't wait to get stuck into her food and everyone elses. She will shamelessly steal it from the little ones when she thinks no one is looking and her female cria, Sebille, has quickly learnt this trick. Fairydust was mated to Sudell Gizmo last October and we're looking forward to her pregnancy being confirmed by a scan in the early Spring.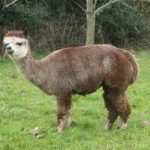 Cheeky (2005)
Colour: Rose Grey
Cheeky joined us as a companion to Fairydust and gave birth to a beautiful dark brown female cria, Viviana, in November. We hoped she would become a matriarch to the new girls, but being very quiet and rather shy, she decided to leave that particular job to Fairydust. She is an excellent mum and extremely protective over her cria.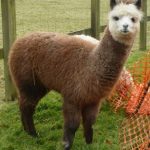 Sebille (2014)
Colour: Dark Grey
Having a mum named Fairydust, we felt we should give her a suitable fairy name. Sebille was an English fairy in King Arthur's time, but our cria looks more like a little ghost than a fairy! She is laid back and friendly, often greeting people with a kiss on the nose. When the food is out she is constantly at my elbow, following the bowls.
Viviana (2014)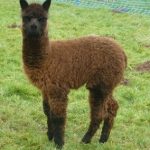 Colour: Dark Brown
So named because my daughter and I were going to see the English National Ballet perform on the evening she came into the world and she seemed to have exceptionally long legs. Once she had worked out where they should be, she had an air of delicate elegance and even managed to point her toe. Her namesake is Viviana Durante, not a member of the ENB, but a renowned ballerina.